---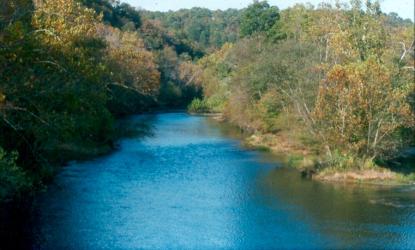 The Eleven Point River is considered by many to be the most pristine river in the Ozarks. A portion of the Eleven Point River is one of the original eight rivers chosen to be part of the National Wild and Scenic Riverways System. Today, over twenty five years later, only a quarter of 1% of the nation's river miles are protected as National Wild and Scenic Rivers.
This beautiful river, located on the eastern edge of the Ozark Mountains, originates in Missouri and is fed by many large springs on its journey to the Spring River in Arkansas. Greer Spring, the second largest in Missouri, adds on average over 200 million gallons of water per day to the river. The erosion of the dolomitic rock that created the many caves and springs in the area also makes this region particularly vulnerable to man's activities.
EPRC believes that preserving the natural qualities of the river and its watershed is not only the best choice for the river, but also the best choice for the local economy. The Eleven Point River Conservancy is dedicated to conserving natural ecosystems, farm and ranch lands, scenic open spaces, and to preserving outdoor recreational opportunities and the historic uses of land which are vital to maintain the quality of life and economic and environmental well-being of the region. Private property owners who know and love their land can provide for its permanent stewardship in partnership with EPRC.
Threats to the Eleven Point River
Like most rivers, the Eleven Point is sensitve to whatever pollution may be washed into the river from the surface of the watershed. Development and poor land management can contribute pollution washing into the river. Since the Eleven Point gets much of its water from springs, it is also very sensitive to groundwater pollution. Some of the spring water that feeds the Eleven Point actually seeps into the ground in parts of other watersheds. Gradual subdivision of the land, and proposals for lead mining and damming the river are also threats to the nature qualities of the river and its watershed.